Review: Law 101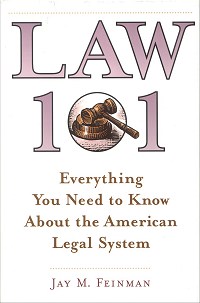 Title

Law 101: Everything You Need to Know About the American Legal System

Author

Jay M. Feinman

Publisher

New York: Oxford University Press, 2000

ISBN

0-19-513265-3
Review Copyright © 2002 Garret Wilson — 13 August 2002 10:44am
In Law 101, Jay M. Feinman examines the major subject areas relevant to first-year law school, such as constitutional law, torts, contracts, property law, and criminal law. His explanations are straightforward and thorough. Cases are cited, popular law-school cases that I've already started to recognize in my pre-law school readings.
Feinman's book is likely not a replacement for the first year of law school, but it does seem to cover the basic subject areas. Definitely enlightening.
Notes
"Great Britain, for example, has neither a written constitution nor judicial review of legislation" (14).
"Lawyers and statesmen in the late eighteenth century simply did not hold a conception of fundamental law as the positive enactment of a legislative body whose intention in enacting the law should guide its interpretation" (21).
Because the way the constitution has been interpreted over time has varied according to the social and political climate, Feinman sees constitutional law as being "as much a language and a process as a body of rules and rights... Constitutional law provides a way of framing issues and expressing arguments" (23).
justiciability is a set of doctrines addressing who can bring a constitutional claim and when they can bring it (29).
Starting with Chief Justice Harlan Stone's opinion in United States v. Carolene Products Co. (1938), footnote 4, constitutional rights within the Bill of Rights such as freedom of speech were given a "preferred position" over other rights (61). According to Miracle at Philadephia, this is similar to why some of the original drafters of the Constitution did not wish to have a specific enumeration of rights—they did not want the presence of rights in the Constitution to imply that, in the least, other rights did not exist.
When explaining the most recent tests for obscenity, articulated in Miller v. California (1973), which "distinguishes between a 'shameful or morbid' interest in sex (a prurient interest) and 'normal, healthy sexual desires,' as the Court said in a later case", Feinman says that, "Here constitutional interpretation has become unmoored from any basis in text, history, or almost anything else" (67).
implead: when one defendant brings in another party as a defendant (109).
summary judgment: "when the court determines that no facts are really in controversy (commonly referred to as no genuine issues of material fact), and when the undisputed facts indicate clearly that one party should win as a matter of law (117).
character evidence, evidence showing a person's general tendency to act in a certain way, is deliberately excluded by the law of evidence because of the danger of biasing the jury (123).
The judge reserves issues of law for the judge to decide, but allows the jury to decide issuees of fact. While this might seem straightforward, Feinman says that, "Labeling an issue as 'law' or 'fact' is simply a way for the judge to determine which issues he i willing to allow the jury to decide... If the judge thinks an issue is too complex, very important, or potentially subject to misinterpretation, he will be inclined to take it from the jury and preserve it for himself. As long as the judge doesn't go too far in usurping the constitutional function of the jury, treating issues as matters of law is an effective jury control mechanism" (126).
Similar to a summary judgment, which keeps a case from going to trial, "Once the trial has begun, the judge can also limit the jury's power and find for one of the parties by granting a motion for directed verdict during the trial or a motion for judgment notwithstanding the verdict after the jury has decided; the two motions are referred to together as motions for judgment as a matter of law" (128).
In defining "reasonable care" in tort cases, Judge Learned hand introduced the formula B<PL, where B is the burden, P is the probability of injury, and L the injury. According to the Hand formula, someone is liable when the burden of doing something is less than the probability of injury occuring multiplied by the amount of injury that would occur (148). "The law has [since] developed another yardstick for measuring reasonable care that is supposed to be more accessible to the normal layperson and to the average jury than the Hand formula: the reasonable person" (150). Unfortunately, "The reasonable person is a legal construct, not an empirical fact," but "a hypothetical and superior individual who acts the way everyone should act all the time."
Summers v. Tice (1948) established a doctrine that when it could not be determined which of the defendants are liable when they both performed are negligent, they would both be held liable (154). Some courts modify this doctrine to impose market share liability to apply, for example, to drug companies when it is not clear which company's products caused problems for a plantiff, although all defendents were negligent (155).
"Modern products liability is strict liability. The manufacturer is liable for marketing a defective product without any requirement that the plantiff prove its negligence in doing so, if the product is in 'a defective condition unreasonably dangerous'" (160). The result is that manufacturers raise product prices to covert strict liability cases "so that each purchaser is in effect buying insurance against being the unlucky product user who otherwise would suffer a catastrophic loss" (161).
"Tort law compensates rich, highly paid plantiffs more than poor plaintiffs with fewer economic prospects" (167).
"Contract law is residual—it deals with all those agreements that are left over after certain types of contracts are dealt with by other, more specialized areas of law [such as labor law and partnership law]" (172).
"The test for contract formation is not whether someone actually intended to make a promise but whether their words and conduct as reasonably understood by the person to whom they were directed were sufficient to imply a promise" (181).
Some kinds of contracts, such as those to pay someone else's debt or a contract for the sale of an interest in land, must be in writing to be enforcable. These promises are governed by the Statute of Frauds, originally enacted in Britain in 1677. "The Statute of Fraud has been copied in every common law jurisdiction. (Oddly enough, Parliament repealed most of the British Statute in 1954) (184)."
Judge Cardozo, writing in Jacob & Youngs, Inc. v. Kent (1921) about minor deviations in fulfilling the substance of a contract:

Those who think more of symmetry and logic in the development of legal rules than of practical adaptation to the attainment of a just result will be troubled by the classification where the lines of division are so wavering and blurred. Something, doubtless, may be said on the score of consistency and certainty in favor of a stricter standard. The courts have balanced such considerations against those of equity and fairness, and found the latter to be weightier (199).

"The principle that money damages are an adequite substitute for performance rests on a particular view of the role of contract law in society. Contract law is solely about economoic relations with no moral content to it... No moral condemnation attaches to the breach [of contract], so the law does not order the breaching party to perform or punish him for breaching. In modern times, this has been developed into a surprising economic principle known as efficient breach. If a party breaches because he can get a better deal elsewhere, that is not only not a bad thing but it is praiseworthy... From a commonsense view, efficient breach misses half the story... One thing that contract law should do is to define right and wrong... [P]aying damages doesn't really make [a breach] right. However, this view has been rejected almost uniformly in the law of contract remedies" (201).
The extension of property to intangibles and the collapse of the idea of absolute ownership means that "property is not really about the ownership of things. Instead, property is about relationships among people with respect to valuable resources" (207).
"The Rule against Perpetuities has tormented law students for generations; the California Supreme Court once stated that the rule is so complicated that it is not malpractice for a lawyer to fail to understand it. But the basic concept is simple. A landowner cannot tie up the land forever by creating interests that will not arise for generations to come" (222).
"Another way to acquire ownership to property is by adverse possession. Adverse possession is an odd concept because it allows someone to acquire ownership by taking it away from the rightful owner" (226).
"For a gift to be legally effective, the donor must intend to give a gift, the property or evidence of it must be delivered to the recipient, and hte recipient must accept it" (227).
Under the tranditional estate-based view of property, "Although the lease relationship originated in the agreement between the landlord and tenant, it was essentially a property relationship, not a contract" (239).
Under modern contract and property principles, a lease cannot usually include an agreement by the tentant to waive the implied warranty of habitability. "Otherwise, landlords could negate the effect of the implied warranty by including a broad disclaimer in a form lease, and few tenants would be knowledgeable enough or have enough bargaining power to demaind that the disclaimer be excluded" (241).
The U.S. Supreme Court in Hawaii Housing AUthority v. Midkiff (1984) upheld the government's broad authority to take land. "As late as the 1980s, more than 80 percent of the private land in Hawaii was owned by the forty largest landowners. To create a more equitable distribution and a more open market for land,the legislature enacted a scheme under which tenants could petition to have the land they rented taken away from the private landlord by the housing authority and sold to them... Accordingly, it will be a rare case in which a governmental taking will be found not to be for a public use" (243).
Each crimes is criminal "not because it is a wrong against another person but because it is a wrong against the public good. The state has determined what behavior is wrongful, and the state can punish that behavior even if the victim doesn't care" (250).
The Model Penal Code's four mental states: purposely (sometimes called intentionally), knowingly, recklessly, and negligently (261).
"An important function of the criminal law is to declare what is right and wrong, to develop and reinforce people's moral fiber..." (273).
Although the courts have had trouble with the fairness of imposing broad liability in far-removed members of organized crime, "Congress has enacted a statute called the Racketeer Influenced and Corrupt Organization Act (known as RICO). Under RICO, the prosecution only has to show that each defendant conspired to promote the criminal enterprise as a whole, and not that he conspired to commit particular criminal acts, so the drug runner might be responsible for unrelated (and even unknown) elements of the criminal organization. At this point, of course, the concept of agreement underlying conspiracy has been stratched almost to the breaking point" (285).
For a stop and frisk situation, in which "an officer detains a person briefly to talk to the person, usually about some suspicious activity, and pats down the person's clothing to make sure that the person has no weapons that might pose an immediate threat to the officer", police do not need either a warrant or probable cause to engage in this type of search and seizure (309).
Part of the Miranda v. Arizona (1964) decision is that if the suspect "indicates in any manner, at anytime prior to or during the questioning, that he wishes to remain silent, the interrogation must cease ... [and if he] states that he wants an attorney, the interrogation must cease until an attorney is present" (311-312). "Interestingly, as police have adapted their procedures to include these easily administered [Miranda] warnings, the incidence of confessions has not declined" (312).
A defendant's plea must be intelligent and voluntary. Courts have various ways of determining this, and "in some jurisdictions, the colloquy includes the bizarre question whether the defendant is pleading guilty only because she is guilty, and not because she has been promised anything in exchange for her plea, when the exchange is the basis of the entire event" (319).
"[T]here must be some factual basis for the defendant's plea but, strangely, the defendant does not actually have to be guilty in order for the court to accept her plea of guilty" as in, for example, North Carolina v. Alford (1970) (319).