Review: The Diary of Anne Frank: The Critical Edition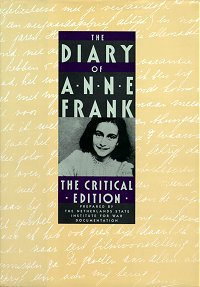 Title

The Diary of Anne Frank: The Critical Edition; Prepared by the Netherlands State Institute for War Documentation

Publisher

Doubleday, New York, NY, 1989

ISBN

0-385-24023-6
Review Copyright © 1998 Garret Wilson — August 1, 1998 10:00am
Reading any academic books at all about the Bible quickly brings out the fact that there is more to its text than just the King James version. One suddenly realizes that that version was based upon a later compilation of the original Hebrew/Aramaic/Greek, and the "original" sources themselves were in turn modifications of canonized texts, which were in turn extensive alterations of even older documents, themselves apparently the results of editing diverse works, which ultimately were derived from stories passed by word of mouth. The Diary of Anne Frank: The Critical Edition, while not even remotely as old nor as edited as the Bible, does give some insight on the process of critically examining historical documents.
When one reads a version of Anne Frank's Diary (Anne Frank: Diary of a Young Girl, The Definitive Edition, for example), you are not reading an unabridged version of Anne's actual diary. In fact, one must first define what is meant by, "Anne's actual diary," because Anne herself kept two. Anne wanted more than almost anything to become a journalist. She not only wrote several short stories while in hiding, but also intended to try to publish a book called, "The Secret Annexe." In furtherance of this goal, she went back to her original diary entries and edited them, adding information here, deleting information there, changing names to protect identities, and overall altering the work so that it would be better suited as a published work. Some sections of the original diary (which are generally referred to as version a) have been lost, along parts of Anne's revised version (version b) (62).
Otto Frank, Anne's father and the only survivor of those hiding at 263, Prinsengracht, further edited these two versions, removing certain comments about Anne's mother and some other sexual-related material, producing what is generally referred to as version c. This version was further amended before the first publication of Het Achterhuis ("The Secret Annexe") in 1947. Two diagrams that explain these major modifications can be found on page 61 and page 66.
After the publication of Het Achterhuis, the validity of the diary was called into question. The Critical Edition includes an extensive summary of the findings of the "Document Examination and Handwriting Identification of the Text Known as the Diary of Anne Frank," which was performed by the State Forensic Science Laboratory by request of the Netherlands State Institute for War Documentation (102). This summary gives in-depth information on the document analysis and technical handwriting analysis (not personal-trait handwriting analysis, or graphology) used, which is presumably indicative of the methods in general use for the examination of other historical documents. Admittedly, I was less than thorough in my reading of some technical parts of this chapter.
The Critical Edition provides versions a, b, and c in a straightforward and useful layout, although it would have been better in my opinion to undertake a new translation of all the material. As presented, the translation is one published by Mrs. B. M. Mooyaart-Doubleday in 1952, except for parts of versions a and b which have not been published before (173). This version was never meant to be a critical translation. Although I have no knowledge of Dutch and cannot judge the accuracy of the translation, it is my opinion that a critical translation should have various footnotes giving certain translation difficulties, giving actual Dutch words in cases, and explaining the mistakes (there had to have been some) in earlier translations.
The supplementary essays in this edition, including a history of the Frank family; information about their hiding, capture, and subsequent investigation of their betrayer(s); and the technical explanation of the examination of the documents, are well-written, objective, and well-documented. They alone are probably not worth the price of the book, but the three unabridged versions of Anne's diary, along with an extensive list (over 18 pages) of deletions and additions to the text make this a valuable edition to the library of anyone interested in the facts of the Anne Frank story. While I have not taken the time to read any of the three versions included, having only read the supplementary articles, it still gives me a good feeling to know that The Critical Edition is sitting on my bookshelf in case I ever need to do extensive research on the text of Anne Frank's diary.