Review: Angela's Ashes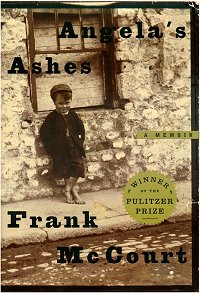 Title

Angela's Ashes

Author

Frank McCourt

Publisher

Scribner, 1996

ISBN

0-684-87435-0
Review Copyright © 1998 Garret Wilson — March 6, 1998, 8:30pm
Frank McCourt could very well be one of the world's best storytellers. And what a memory. Angela's Ashes is the story of little Francis McCourt as he endures things that you and I will never come close to. And, oh, God; Jaysus, Joseph, and Mary, it's all true.
Frankie was born in America, the son of a nice Irish girl and a drinking man from the North. Not known for his prudence, his father takes the family back to Ireland where there situation goes from bad to worse to unimaginable. Yet Frankie was there, and he remembers it all, and you see it through his eyes, those slanted, shifty, diseased eyes; you experience everything he sees and feels.
After a while you are not surprised when Frankie's father comes home drunk without the dole money, but you never stop cringing. When Frankie sees things and does not understand them, you cry inside as you listen to a young boy try to figure things out, wishing he were grown up, because, the adults say, when you grow up you'll understand. We know what Frankie didn't know, and we know that Frankie knows now, but we know that none of us will understand.
I don't need to explain this book. I don't need to examine it, critique its plot, compare its literary devices. There's no need to question motives because, after all, this is a four-year-old, no, nine-year-old, no, 19-year-old boy with a brother, no, a brother and a sister, no, a brother, no a brother and a set of twins, no, a brother, no, three brothers. And a mother and father. No, a mother. No, a mother and a father. No, a mother, a few uncles and aunts, and a grandma. No, just a few uncles and aunts. No.
No, this is a story that just needs to be read. A Pulitzer-prize-winning story that needs to be experienced. A story that could probably fit many a wee lad growing up in poverty in Ireland in the first part of this century, but this one happens to be by and about young Frankie McCourt. And Mary, Mother-of-God and all the saints, it's all true. If only it weren't.
If you can only read one book this year, make it Angela's Ashes.