November-December 2000
I travel to Germany, San Francisco, and Oklahoma. Click on each photo to see a larger, more detailed version.
Somewhere in Germany on a train, Mark makes some joke at my expense.
Here's something you don't see every day in San Francisco: a helicopter outside your window, apparently replacing a cooling unit on a roof.
Ofer tries to to figure out how to get the Country King tractor set on the airplane to take back home for the kids.
It's called dancing, Ben. Everyone's doing it, nowadays.
Back in Oklahoma, there's ice on the trees, on the gate, and even that round bale of hay grandpa randomly placed in his yard.
Grandpa and cat.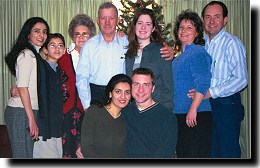 Wilson Christmas 2000.