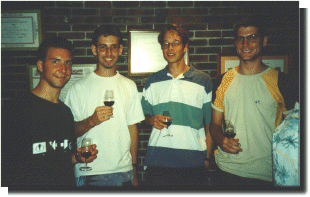 You can't go to Bordeaux without visiting a vinyard. Bordeaux makes some of the best, if not the best, red wine. Most chateaux tours allow you to taste the wine.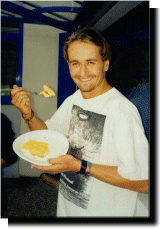 The last week of class, we had a picnic, for which each student was supposed to prepare and bring food from his/her country. I can't cook American food (or any food), so I decided to fix French Toast. (Is that American? I don't know.) Here, Ben (from the UK) tastes my first attempt. How polite of him to smile.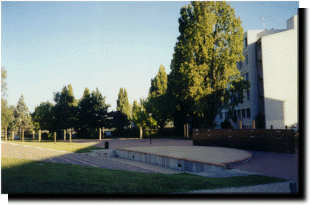 Behind the the dorm roooms, there was an ampitheatre. Almost every night during the week, most of the students would gather here and talk, eat, drink, sing, whatever. Germans, Spanish, Italians, Polish, Russian, and other nationalities just hanging out. The fact that many of them communicated with other nationalities in English didn't help my French much, though.
Americans seem to be ignorant of other countries, compared to those outside our borders. These German guys were able to quickly join in a rendition of "The Star Spangled Banner." At the ampitheatre, of course.